What is the Health and Wellbeing Board?
The Health and Wellbeing Board was established under the Health and Social Care Act 2012 and is a formal committee of Nottinghamshire County Council, tasked with promoting greater partnership between the National Health Service, public health, and local government.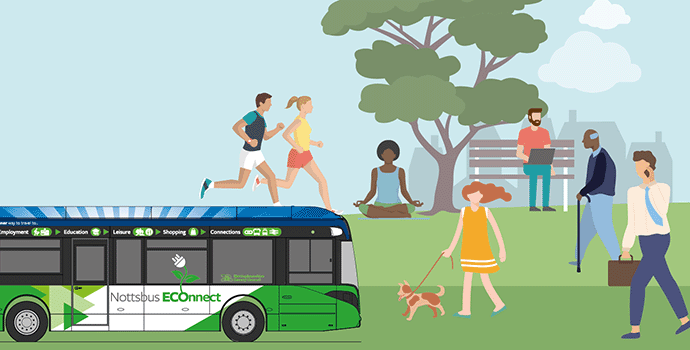 The board provides a valuable setting to work on a range of issues to benefit the health and wellbeing of residents in Nottinghamshire and plays an important role in shaping and influencing our local services.
Current membership of the board includes:
Nottinghamshire County Council
Bassetlaw District Council
Mansfield District Council
Ashfield District Council
Broxtowe Borough Council
Gedling Borough Council
Newark and Sherwood District Council
Rushcliffe Borough Council
Nottinghamshire Office of the Police and Crime Commissioner
Bassetlaw Place Based Partnership
Mid Nottinghamshire Place Based Partnership
South Nottinghamshire Place Based Partnership
Nottingham and Nottinghamshire NHS Integrated Care Board
Nottinghamshire Healthwatch
What does the Board do?
The board is responsible for improving the health and wellbeing of everyone in Nottinghamshire, reducing health inequalities and promoting integrated working - It does this in a number of different ways.
A Joint Strategic Needs Assessment
It coordinates and publishes the Joint Strategic Needs Assessment, which is used to outline the current and future health and social care needs of local communities in Nottinghamshire. The JSNA highlights topics of joint strategic importance, providing recommendations for actions to take to improve health and wellbeing and reduce health inequalities.
A Joint Health and Wellbeing Strategy
The Board has a Joint Health and Wellbeing Strategy [PDF] that sets out the priorities identified through the Joint Strategic Needs Assessment (JSNA) and engagement with our communities that local government, the NHS and other partners will deliver together through the Health and Wellbeing Board and its activities.
The Better Care Fund
The Board oversees the delivery of the Better Care Fund which is a local pooled budget between the NHS and local government. It is used to plan and integrate health and social care services in Nottinghamshire to deliver better outcomes for our communities, and support people to live independently in their communities for as long as possible.
A Pharmaceutical Needs Assessment
The Board prepares a Pharmaceutical Needs Assessment on pharmaceutical services in Nottinghamshire. The report is used to identify any gaps in current services or improvements that could be made for pharmaceutical service provision in the future and support commissioning decisions based on patient need.
Where can you find out more?
The Health and Wellbeing Board meets every six weeks. You can watch our Health and Wellbeing Board meetings online on the Nottinghamshire County Council YouTube channel, with the reports available on the Nottinghamshire County Council's Democratic Management System.
We also have a health and wellbeing stakeholder network that you can sign up to by emailing NottsJHWS@nottscc.gov.uk to be sent news or opportunities to have your say about health and wellbeing services in Nottinghamshire.